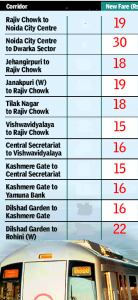 Metro fare is very normal like DTC buses. Its minimum fare is 8 Rs and maximum is 30 Rs. There is automatic fare collection gate when passenger touches his token then it automatically open and when journey end then passenger has to drop the token in collection gate it any person does not have sufficient money in his token the fare collection gate will not open. Daily passenger prefers to make metro card for which they have to pay 50 Rs. When they travel they punch card then fare amount automatically deduct from card balance. Metro card provides 10% discount in journey. There are special cards for tourist purpous whose validity is 1 to 2 day in this period you can do unlimited travel. If any person reach next station to its destination station for which he purchase token then on drop the token Fare collection gate will not open. It shows the message 'you have insufficient balance' then person has to pay fine for this act. Below are some modes of fares.
Automatic fare collection gate
This automatic fare collection system introduced first time in country. For which person has to purchase token or card from counter. After that he has to hold the token or card near to gate screen on right side if token is valid then gate will automatically opens otherwise person should contact to customer service staff.
1. Token- This is used for one way journey or single day journey it validity will remain for that particular day only. Its's minimum charges is 8 Rs and maximum charge is 30 Rs.
2. Metro Card- This is mainly used by frequent commuters. Card available on each metro station at 50 Rs. This money refundable when you return this card to metro. Maximum recharge money for this card is 800 Rs. There are no renewal charges for this card. Its validity is one year from purchase of card. You can also check balance in your metro card on ticket reading machine at any metro station.
This card dedicated to those persons whose has to make frequent travel between 1-3 days or short period. It is also known as tourist card. Charges for one day value card is 100 Rs and charges for three day value card is 300 Rs. Refundable 50 Rs which one deposit at time of purchase of card.