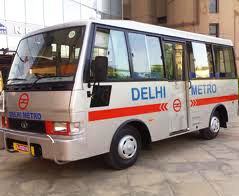 DMRC provides metro feeder buses from its station. Its fare is very normal. After certain interval this service is available on stations. These mini buses are comfortable for journey.
These have maximum capacity of sitting 20 peoples and some people can remain in standing position.
These have nice fan cooled. All buses equipped with CNG kit so there is no issue of pollution. First Aid box is also available with these buses.
DMRC also set up control centers for keeping eye on movement of these buses. These buses fare near about DTC buses.
It has medium size so it takes less time to come out large traffic jam. Feeder buses provides seamless journey from source to destination. DMRC most awaited air conditioner feeder bus will hit this summer soon. The process is going on.
They are looking for appropriate contractor. These buses will run near about 20 routes. The capacity of these buses around 27 seats. These buses will monitored by GPS system and team of dedicated members will oversee operations the routes where metro station already setup they will get the priority.
According to new fare charges now passenger have to 5 Rs for 0-4 Km
And 10 Rs for travel between 4-10 km
And 15 Rs for travel beyond 10 Km.
The new fare structure has brought the Metro feeder bus fare at par with that of Delhi Transport Corporation.
At present, the Delhi Metro Rail Corporation is running 120 feeder buses on 15 routes and this clock a ridership of about 35,000 per day.
Taking a cue from the Uttar Pradesh and the Haryana governments, who have planned to set up their own metro feeder bus services in Noida and Gurgaon, IFTRT said the Delhi Government "must take immediate action to provide metro feeder buses rather than depending on already overburdened DMRC".
The RTV mini-buses operating in some areas under the DMRC.