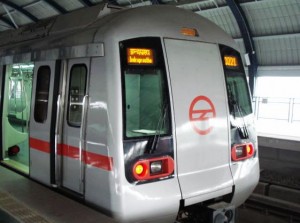 Delhi Metro Rail Corporation (DMRC), a Joint Venture company with equity participation from Govt. of India and Govt. of National Capital Territory of Delhi has been entrusted with the responsibility of implementation of the rail based Mass Rapid transit System for Delhi. This is most awaited project in Delhi. which one consist of safety, reliability, time punctuality of train operation in Delhi Metro technology is taken for foreign countries like automatic fare collection gate, automatic door close, announcement in train etc. It reduces the issue like road accident and traffic jams, pollution in road. It gives people surety that they will reach their destination on time. Metro compartment are well shaped that maximum passenger can travel journey and all coaches are air conditioner. It makes the Delhi NCR people life easier.
It has a combination of elevated, at-grade and underground lines and uses both broad gauge and standard gauge rolling stock. Metro project started keeping in mind common wealth games 2010 in New Delhi after that it expansion plan still working. It's target to connect whole Delhi NCR area till 2021. In whole project they fulfill all the standard that should meet to criteria of world class service of metro rail. Now it becomes people's life line of daily life. According a survey 90% peoples are satisfied with metro services.
It runs different lines
Blue line (Dwarka Sec -21 to Noida city center/Anand Vihar)
Yellow line (Huda city center to Jahagirpuri)
Violet line (Central Secretariat to Badarpur)
Red line (Dilshad Garden to Rithala)
Green line (Inderlok to Mundka)
Airport Express line (New Delhi to Dwarka Sec 21)
The power output is supplied by 25-kilovolt, 50 Hertz alternating current through overhead centenary. The metro has an average daily ridership of 1.5 million commuters and, as of August 2010, had carried over 1.25 billion commuters since its inception.
The Delhi Metro has won awards for environmentally friendly practices from organizations including the United Nations and the international Organization for Standardization, becoming the second metro in the world, after the New York City Subway, to be ISO 14001 certified for environmentally friendly construction Most of the Metro stations on the Blue Line conduct rainwater harvesting as an environmental protection measures. It is also the first railway project in the world to earn carbon credits after being registered with the United Nations under the Clean Development Mechanism and has so far earned 400,000 carbon credits by saving energy through the use of regenerative braking systems on its trains.