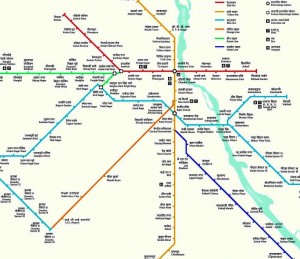 Delhi metro has developed six routes till now they are following.
Dilshad Garden to Rithala. It covers distance of 25.15 km it passes through 21 metro stations and 23 train's runs on this route which are following. The Red Line was the first line of the Metro to be opened and connects Rithala in the west to Dilshad Garden in the east, covering a distance of 25.09 kilometers. It is partly elevated and partly at grade, and crosses the Yamuna River between Kashmere Gate and Shastri Park stations.

Huda City Center to Jahagirpuri. It covers distance of 44.65 km it passes through 34 metro stations and 45 train's runs on this route. The Yellow Line was the second line of the Metro and was the first underground line to be opened. It runs for 44.36 kilometers (27.56 mi) from north to south and connects Jahangirpuri with HUDA City Centre. The northern and southern parts of the line are elevated, while the central section through some of the most congested parts of Delhi is underground. The first section between Vishwa Vidyalaya and Kashmere Gate opened on December 20, 2004, and the subsequent sections of Kashmere Gate – Central Secretariat opened on July 3, 2005, and Vishwa Vidyalaya – Jahangirpuri on February 4, 2009. This line also possesses the country's deepest Metro station at Chawri Bazaar, situated 30 meters (98 ft) below ground level. On 21 June 2010, an additional stretch from Qutub Minar to HUDA City Centre in Gurgaon was opened, initially operating separately from the main line. However, Chhatarpur station on this line opened on August 26, 2010. Due to delay in acquiring the land for constructing the station, it was constructed using pre-fabricated structures in a record time of nine months and is the only station in the Delhi metro network to be made completely of steel.
Dwarka Sec 21 to Noida city center /Anand Vihar ISBT. It covers distance of 50 km it passes through 44 metro stations and 59 train's runs on this route. The Blue Line was the third line of the Metro to be opened, and the first to connect areas outside Delhi. Partly overhead and partly underground, it connects Dwarka Sub City in the west with the satellite city of Noida in the east, covering a distance of 47.4 kilometres (29.5 mi). The first section of this line between Dwarka and Barakhamba Road was inaugurated on December 31, 2005, and subsequent sections opened between Dwarka – Dwarka Sector 9 on April 1, 2006, Barakhamba Road – Indraprastha on November 11, 2006, Indraprastha – Yamuna Bank on May 10, 2009, Yamuna Bank – Noida City Centre on November 12, 2009, and Dwarka Sector 9 – Dwarka Sector 21 on October 30, 2010. This line crosses the Yamuna River between Indraprastha and Yamuna Bank stations, and has India's first extradosed bridge across the Northern Railways mainlines near Pragati Maidan. A branch of the Blue line, inaugurated on January 8, 2010, takes off from Yamuna Bank station and runs for 6.25 kilometres (3.88 mi) up to Anand Vihar in east Delhi.
Central Secretariat to Badarpur. It covers distance of 20.04 km it passes through 15 metro stations and 29 train's runs on this route. The Violet Line is the most recent line of the Metro to be opened, and the second standard-gauge corridor after the Green Line. The 20.2 km (12.6 mi) long line connects Badarpur to Central Secretariat, with 9 km (5.6 mi) being overhead and the rest underground. The first section between Central Secretariat and Sarita Vihar was inaugurated on October 3, 2010, just hours before the inaugural ceremony of the 2010 Commonwealth Games, and connects the Jawaharlal Nehru Stadium which is the venue for the opening and closing ceremonies of the event. Completed in just 41 months, it includes a 100 m (330 ft) long bridge over the Indian Railways mainlines and a 167.5 m (550 ft) long cable-stayed bridge across an operational road flyover, and connects several hospitals, tourist attractions and a major industrial estate along its route. Services are provided at intervals of 5 min. An interchange with the Yellow Line is available at Central Secretariat through an integrated concourse.
Inderlok to Mundka. It covers distance of 18.46 km it passes through 15 metro stations and 13 trains runs on this route. Opened in 2010, the Green Line was the first standard-gauge corridor of the Delhi Metro. The fully elevated line connects Mundka with Inderlok running for 15.1 kilometres (9.4 mi) mostly along Rohtak Road. An interchange with the Red line is available at Inderlok station via an integrated concourse. This line also has the country's first standard-gauge maintenance depot at Mundka.
Delhi Airport metro express
New Delhi metro station to Dwarka Sec 21. It covers distance of 22.70 km it passes through 6 metro stations and 8 train's runs on this route. The Airport Express line runs for 22.7 km (14.1 mi) from New Delhi Railway Station to Dwarka Sector 21, linking the Indira Gandhi International Airport. The line is operated, by the Delhi Airport Metro Express Pvt. Limited (DAMEL), a subsidiary of Reliance Infrastructure, the concessionaire of the line. Constructed at a cost of 2,885 crore (US$640.47 million), the line has six stations with check-in facilities, parking and eateries. Rolling stock is expected to consist of six-coach trains operating at intervals of ten minutes and having a maximum speed of 135 km/h (84 mph).