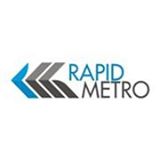 Rapid Metrorail is a beneficial project for passenger to travel a comfortable journey without ant traffic problems. But on other hand rapid metro is boom for youngsters to shape their career with a good platform. Rapid metro is also open door for fresher and experienced to prove their self with handsome salary package. Reality is that good employees and operator can make victory to run metro. Metro project is offers thousands of jobs for youths. India is considering one of the most developing countries in this way rapid metro rail plays a vital role.
Delhi metro rail corporation is also starting a special training program for new recruits for rapid metro rail Gurgaon limited. Rapid metro operations started in Gurgaon by April 2013. A batch of recruiters joined metro rail training program as station controller and train operators. 30 Candidates get training and get job as per their ability. This training program makes easy selection of fresher for work in rapid metro project. There are so many jobs in different levels. Youths are much conscious about their career, they select field as per their convenience so that they can achieve their set desire goals fast. Job in rapid metro becomes a correct way to get a good job with attractive salary for fresher.
Rapid metro offers job in different category for talented and educated people.
 Executive & Asst Engineer
 Ground staff
 Counter attendee
Train operator
HR and Trainees
There are so many opportunities are waiting for newcomers those have ability to do something with hard work and dedication. Rapid metro run a training program in which selected recruiters get training how to work in metro or how to attend the passengers, solve their problem as soon as possible. During the training period candidates get knowledge of latest technology like Siemens signaling system, emergency systems, Rolling Stock station operation and management, and other aspects.