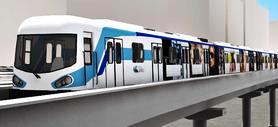 Delhi metro rail corporation is a joint venture company with equity participation with government of national territory of Delhi has been taking interest of implementation of metro rail. Rapid metro rail means rail based mass rapid transit system for Delhi and Gurgaon. Rapid metro rail is most awaited metro project in Delhi and NCR. It is has so many qualities which differentiate it from others like safety, reliability, punctuality etc. time punctuality and train operation method is taken from foreign countries like automatic fare collection gate, automatic door close and time to time required announcements in train. It can also reduce the road accidents, traffic jam, pollution etc.  It is also time saver technology there is no need to wait any more because the train frequency is more than past.
Rapid metro train gives you surety that you will reach your destination on time without any traffic of pollution problems. It is more convenient and relaxed way of journey. Metro compartments are shaped as per the passengers comfortable and maximum passengers can travel together in one time. All coaches are fully air conditioned. If there is any emergency so passengers can easily get help through the rail staff just press emergency button. You will get help in few minutes. This metro rail makes Delhi and NCR people's life much easier than past.
Metro rail is also environment friendly and become second metro in the world. In whole project metro fulfill the standard of criteria which is requiring for world class services of metro rail. Now it is become an important life line for people's daily life line.  According to a survey 90% of people are satisfied with journey of metro rail.
Gurgaon Rapid Metro start date 2 October 2013 – Sikanderpur Metro Station to Ambience mall.
Rapid metro is one of the fast and convenient travelling options for NCR peoples. Rapid metro rail will be first fully private financed metro system. The line will be built and operated by RMGL (rapid metro rail Gurgaon).