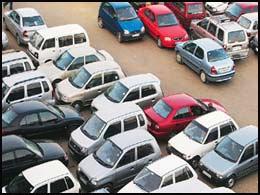 Delhi metro provides parking facility to its passengers. Passenger can stand their vehicles in parking area.
It make peoples more convenient to reach nearby metro station by their own vehicle and rest of journey they travel by metro because every person want to reach destination on time whether it is office, school, shop.
It saves person's time, money as well as prevents pollution, road accident, and unnecessary traffic jam in roads. Parking charges are very nominal. They charge different rates for scooter, cars, taxis, cycles according to hours.
Some of parking areas are equipped with CCTV cameras to keep eye on suspects. Now a day's more and more people demanding from parking space because people like to leave their vehicle at station. "The parking contractor will have to wear a uniform and carry the identity card at all times. Parking sites will have signage giving details of the parking contract and rates," said a DMRC spokesperson.
The move will also end the strife over parking charges and rules at metro stations. For the safety of the parked vehicles and for the security of their own premises, the DMRC will have boundary walls enclosing the parking sites and a room for the parking attendants. "The attendants can use the facility for keeping helmets and other belonging and they will also have to ensure the parking areas are neat and clean.
The Municipal Corporation of Delhi has also emphasized the need to keep the parking sites clean and for the staff to be on alert," the spokesperson said.
Currently, the total operational parking area under the DMRC is 1, 98, 942 sq m spread across 76 metro stations. The largest parking space available on Line 1 (Dilshad Garden to Rithala) is at Kanhaiya Nagar with a parking area of approximately 7, 000 sq m., while on Line 2 (Central Secretariat – Jehangirpuri) it is at the Patel Chowk station, which has a parking area of 8, 400 sq m.On Line 3 (Dwarka Sector 9 to Noida City Centre) Yamuna Bank and Janakpuri West stations have the biggest parking slots of 6, 300 sq m and 6, 400 sq m respectively.
Multi-level parkings at New Delhi Metro Station (on the Airport Express Link) are under commission.
"On Line 6 (Central Secretariat-Badarpur) stretch we have made provisions for offering adequate parking space. Stations like Nehru Place and Okhla which have a high footfall will have a parking bay stretching up to 2000 sq m, Kalkaji will have a 1040 sq m and Govindpuri 1779 sq m kept aside for parking purposes. The parking contracts for Tughlakabad, Mohan Estate and Badarpur are also in process and will be operational with the opening of the line till the last stop," the spokesperson said.